Mission Statement
Spartan Safety Services will provide honest, reliable safety consulting to our client companies looking to improve their health and safety program. We will help our clients find their way through the legislative requirements and support their efforts to meet due diligence regarding the health and safety of their employees and assets.
Core Value Statements
| | |
| --- | --- |
| Integrity: | We recognize that our behaviour must reflect honesty, sincerity and accountability through ethical and moral standards. |
| Fairness: | We treat all clients impartially with consideration and compassion. We are equally responsive to our clients needs. |
| Commitment: | We are proactive members of your company and the health and safety community. Compass Safety Services is self-directed and self-motivated. We identify problems and develop and implement solutions to improve our clients health and safety programs. |
Biography
A member of the Canadian Society of Safety Engineers, I have been in the safety industry full time since 2001, with a number of years working in safety sensitive positions prior to that. In that time I have managed programs for two large oil field service companies within Western Canada as well as the development of a program for an oilfield manufacturing company in Red Deer where I had the pleasure of working with a large number of trades, bringing the program up to an auditable level for the first time in the company's history. I have now moved into consulting to assist other companies with safety program development, legislative compliance, due diligence and auditing.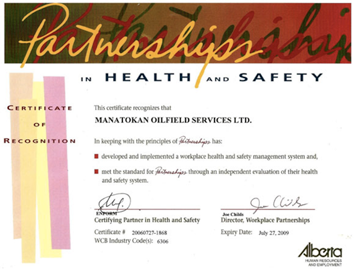 I have performed external audits for three certifying partners in Alberta; Manufactures Health and Safety Association, Enform, and most recently the Alberta Association of Safety Practitioners utilizing their respective audit tools. I have a diverse understanding of a number of industries such as Oil field Services, Drilling, Manufacturing, Construction and various trades assisting me with the performance of an efficient and accurate audit of your health & safety. My diversity also assists in the development of a well rounded and properly established health & safety program which covers the legislative and moral requirements, which is easily maintained and supports due diligence.